So this may not look like much of a Birthday Celebration but what you didn't see was the wonderful meal Jay and I had at Table 310 downtown Lexington a few hours prior.   So i thought it would be good to touch on a couple of key points about Jay, baking and going out on a date night after another baby.
Jay and I are a bit behind on our once a month date night and we will get better really we will, but what we learned very quickly while at this very fancy and trendy restaurant on the night of this very special man's birth was that we aren't that fancy and trendy.   My post maternity hodge podge outfit and his pink (salmon) in the middle of winter old Tommy button down put us square in the "this is our first time here" category that made both of us chuckle as we sat down in the fishbowl of a restaurant.   And I think we also both realized we really didn't care at all.   I love that about Jay and I, I don't pretend to be something I'm not, he doesn't have to be something he is not and we both love eachother for what we are.  We learned alot about being happy in marraige counseling and counseling in general and I am grateful that small realization because there is nothing better in the world to know that you are with someone you are comfortable with.   OK so he still shuts the door to the bathroom, but I am working on that one:).
The other thing that made us stand out is the fact that I ate all of my courses in under 6 minutes.     We were literally done with our meal all 3 courses in 45 minutes…wondering if we should sit a bit longer LOL.   Any other mama's do that….you rush through every meal of life that it becomes second nature….ahhh parenthood…
This is to an amazing man who I look at everyday and am thankful for the life he has given me which I don't feel like I deserve most days!
Jay and Cheesecake are like Peanut Butter and Jelly.   Now my family's specialty is german cheesecake which is a little between flan and traditional cheese cake.
His favorite and my go to recipe for classic New York Sytle Cheesecake is from the Joy of Baking: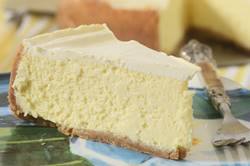 New York Cheesecake: Grease, or spray with Pam, a 9 inch (23 cm) springform pan. Place the springform pan on a larger baking pan to catch any leakage while the cheesecake is baking. Preheat oven to 350 degrees F (177 degrees C) with rack in center of oven.
For Crust: In a medium sized bowl combine the graham cracker crumbs, sugar, and melted butter. Press the crumbs evenly over the bottom and about 1 inch (2.5 cm) up the sides of the springform pan. Cover and refrigerate while you make the filling.
For Filling: In bowl of your electric mixer place the cream cheese, sugar, and flour. Beat on medium speed until smooth (about 2 minutes), scraping down the bowl as needed. Add the eggs, one at a time, beating well (about 30 seconds) after each addition. Scrape down the sides of the bowl. Add the whipping cream, lemon zest, vanilla extract and beat until incorporated. Remove the crust from the refrigerator and pour in the filling. Place the cheesecake pan on a larger baking pan and place in the oven.
Bake for 15 minutes and then lower the oven temperature to 250 degrees F (120 degrees C) and continue to bake for about another 60 – 90 minutes or until firm and only the center of the cheesecake looks a little wet and wobbly. (The baking time can vary due to the differences in ovens, so make sure to check that the cheesecake is firm with only the center being a little wet and wobbly.) Remove from oven and place on a wire rack.
Meanwhile, in a small bowl combine the sour cream, sugar, and vanilla extract. Spread the topping over the warm cheesecake and return to oven to bake for 15 more minutes.  Remove from oven and carefully run a knife or spatula around the inside edge of pan to loosen the cheesecake (helps prevent the surface from cracking as it cools).
Let cool completely before covering with plastic wrap. Refrigerate several hours, preferably overnight. Serve with fresh fruit or fruit sauces.
Makes one – 9 inch (23 cm) cheesecake.
To freeze:  Place the cooled cheesecake on a baking pan and freeze, uncovered, until firm. Then wrap in aluminum foil and place in a freezer bag. Seal and return to freezer. Can be frozen for several months. Thaw uncovered cheesecake in the refrigerator overnight.
View comments on this recipe on YouTube
Crust:
2 cups (200 grams) of graham cracker crumbs or finely crushed Digestive biscuits
1/4 cup (50 grams) granulated white sugar
1/2 cup (114 grams) unsalted butter, melted
Filling:
32 ounces (907 grams) cream cheese, room temperature (use full fat, not reduced or fat free cream cheese)
1 cup (200 grams) granulated white sugar
3 tablespoons (35 grams) all purpose flour
5 large eggs, room temperature
1/3 cup (80 ml) heavy whipping cream (double cream)
1 tablespoon lemon zest
1 teaspoon pure vanilla extract
Topping:
1 cup (240 ml) sour cream (not low fat or fat free)
2 tablespoons (30 grams) granulated white sugar
1/2 teaspoon pure vanilla extract
Tips:  Sometimes the surface of the cheesecake cracks.  To help prevent this from happening do not over beat the batter, especially when creaming the cheese and sugar. 
Another reason for cracking is overbaking the cheesecake.  Your cheesecake is done when it is firm but the middle may still look a little wet. 
Also, make sure the springform pan is well greased as cracking can occur if the cheesecake sticks to the sides as it cools.
Read more:http://www.joyofbaking.com/Cheesecake.html#ixzz3Q2x4kY6J